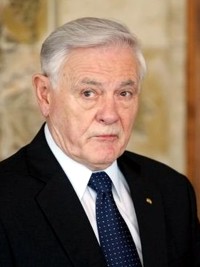 Valdas Adamkus President of Lithuania from 1998 to 2003 and again from 2004 to 2009. After leaving the office, President Adamkus has remained involved in international development, expecially on the post-soviet space. President Adamkus supported an active dialogue between the EU member states and those former Soviet republics such as Georgia, Ukraine, and Moldova, that are actively seeking membership in the EU. He expressed support for these candidate members during the Community of Democratic Choice in 2005, at the Vilnius Conference 2006, and on several other occasions.
In 2003 Valdas Adamkus was named UNESCO Goodwill Ambassador for the Construction of Knowledge Societies. He is also a member of the Club de Madrid, an organization that works to strengthen democratic leadership and governance worldwide and the International Honorary Council of the European Academy of Diplomacy.
---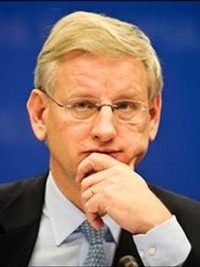 Carl Bildt was Sweden's Foreign Minister from 2006 to 2014, and Prime Minister from 1991 to 1994, when he negotiated Sweden's accession to the EU. Carl Bildt has had wide experience in foreign and security affairs, serving on or leading a number of official governmental commissions.
He served as EU Special Envoy to the former Yugoslavia from June 1995, co-chairman of the Dayton Peace Conference in November 1995 and High Representative for Bosnia and Herzegovina from December 1995 to June 1997, immediately after the Bosnian War. From 1999 to 2001, he served as the United Nations Secretary-General's Special Envoy for the Balkans.
Bildt has authored a number of published works, in addition to producing his own newsletter in Swedish on international affairs. Carl Bildt is the holder of various senior honours and decorations from France, Germany, the United Kingdom, Estonia and Latvia. He also has an honorary degree from the University of St. Andrews in Scotland, where he is a Fellow at its Institute for the Study of Terrorism and Political Violence.
---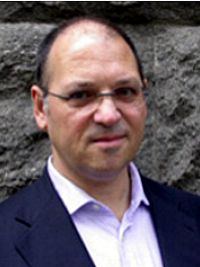 Adrian Karatnycky is a senior fellow with the Atlantic Council's Program on Transatlantic Relations. He is a founder and co-director of the Ukrainian-Jewish Encounter.
From 1993 to 2004, he was president and executive director of Freedom House, during which time he developed programs of assistance to democratic and human rights movements in Belarus, Serbia, Russia, and Ukraine. For twelve years he directed the benchmark survey Freedom in the World and was co-editor of the annual Nations in Transit study of reform in the post- Communist world.
He is a frequent contributor to Foreign Affairs, Newsweek, the Washington Post, the Wall Street Journal, the Financial Times, the International Herald Tribune, and many other periodicals. He is coauthor of three books and coeditor of eight books on Soviet and post-Soviet themes.
---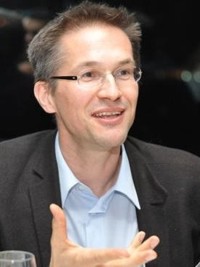 Gerald Knaus is the founding Chairman and lead analyst of the European Stability Initiative since 1999.
After having studied in Oxford, Brussels and Bologna, he taught economics at the State University of Chernivtsi in Ukraine and spent five years working for NGOs and international organisations in Bulgaria and Bosnia and Herzegovina. Gerald Knaus has published many articles and reports that have triggered wide public debates. In 2011, he co-authored, alongside Rory Stewart, the book "Can Intervention Work?" He has also co-authored more than 60 ESI reports as well as scripts for 12 TV documentaries on South East Europe.
He is a founding member of the European Council on Foreign Relations and Associate Fellow at the Carr Center for Human Rights Policy at Harvard University's Kennedy School.
---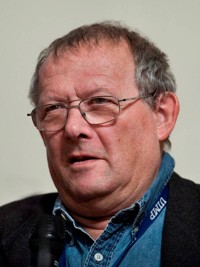 Adam Michnik is a Polish historian, essayist, former dissident, public intellectual, and the editor-in-chief of Poland's largest newspaper Gazeta Wyborcza. A leader of the anti-Communist opposition in Poland in the 1970s and 1980s, Michnik played a crucial role during the Polish Round Table Talks, as a result of which the communists conceded to call elections, which were subsequently won by oppositional movement Solidarity. In the 1990s Michnik withdrew from his direct involvement in politics, instead focusing on editorial and journalistic activities.
An author of multiple articles, essays, and books, Adam Michnik has received various awards as an advocate for democracy. He is a member of Association of Polish Writers and the Council on Foreign Relations.
---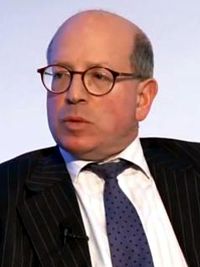 James Sherr is an associate fellow and former head, between 2009 and 2011, of the Russia and Eurasia programme at Chatham House (the Royal Institute of International Affairs).
From 1993 to 2012, he was a member of the Social Studies Faculty of Oxford; from 1995 to 2008, a fellow of the Conflict Studies Research Centre of the UK Ministry of Defence. He has published extensively on internal political processes in Ukraine, foreign and security policy of the Russian Federation, energy relationship between Russia, Ukraine and the EU and security issues in post-Communist space.
He is a frequent contributor to The World Today, Mirror of the Week, The Times, Kyiv Post, The Independent, the Financial Times, and many other periodicals. His last book "Hard Diplomacy and Soft Coercion: Russia's Influence Abroad" should be in a must-read list for anyone who wants to understand what shapes and motivates Russian foreign policy.
---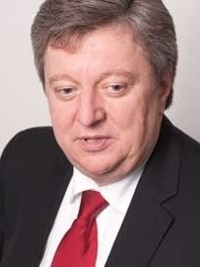 Roman Shpek Ukrainian statesman and diplomat. In 2000-2008, he served as Ukraine's Ambassador to the European Union, in which post he played a key role in developing relations with European institutions and promoting trade and political links. Before that Roman Shpek held high-level state posts.
In 1993 he was appointed as a Minister of Economy of Ukraine and in 1995 became a Deputy Prime Minister for Economic Affairs of Ukraine. From 1996 to 2000 he served as a Chairman of the National Agency for Reconstruction and Development, and then – National Agency for Development and European Integration, coordinating ministerial activities in securing and disbursing bilateral and multilateral loans to Ukraine and improving the investment climate. Currently, he is a senior advisor to PJSC "Alfa-Bank" and a member of the Board of the National Bank of Ukraine.
---
Vitaliy AntonovUkrainian businessman, Head of Supervisory Board of "Galnaftogaz"(network of gas stations "OKKO"), Head of Supervisory Board of insurance company "Universalna", President of "Universalna investment group".
Since 1999 Vitaliy Antonov has been Honorary Consul of Lithuania in Lviv and Lviv region, and since 2007 – General Honorary Consul of Lithuania in Lviv. Since 2001 he has been the head of Lithuanian-Ukrainian Foundation of Taras Shevchenko, and in 2008 he became one the cofounders of Lviv Business School of Ukrainian Catholic University.
In 2013 for the first time he was included in the list of 100 most influencial persons according to the magazine "Correspondent", ranking 66 in this list. In 2015 he topped the list of 10 best managers of Ukraine in 2014 according to magazine "Companion". In 2014 he was included in the list of 100 most influencial Ukrainians according to magazine "Focus".