The change of the Presidential Administrations in the USA in January 2017 adversely influenced the America's involvement in solution of Ukraine-Russia conflict in Donbass. On January 26, 2017, Victoria Nuland, the Assistant Secretary of State for European and Eurasian Affairs, resigned. In 2015-2016 she carried out active negotiations with the Russian Federation representatives (Grigoriy Karasin, Vladislav Surkov) concurrently with the Normandy Quartet. All the members of the Normandy Quartet expected that the USA would actively return to attempts of implementation of Minsk Agreements. As a result, in spring 2017 new discussions and speculations about who could take the position of Victoria Nuland and renew the bilateral contacts with Russia begun.
At the same time, it has become known that the USA are planning to return to attempts to implement Minsk Agreements and in such a way to bring peace to Donbass. One of the elements of the US plan to restart the negotiation process was the appointment of a special representative for renewal of the bilateral channel of negotiations with Russia. Establishment of the institute of special representative for Ukrainian negotiations also had to help the Donald Trump's Administration to avoid the further delay of the U.S. active involvement given a slow process of Senate approval of the U.S. State Department staff. As a result, on 7 July 2017, Rex Tillerson appointed Kurt Volker to serve as the U.S. Special Representative for Ukraine Negotiations (it was the first time when such a position was created for Ukraine). Thereby, the speculations in the American mass-media concerning the possible candidate for the position of the U.S. Representative for the negotiations with Russia were borne out. The said appointment was favorably viewed by all the members of the Normandy process.
On July 27th 2018, Institute of World Policy made a presentation of the policy brief "Kurt Volker – one year on world stage". Within the framework of the presentation, the following issues were analyzed:
Creation of the post of the United States Special Representative for Ukrainian Negotiations.
The main stages of Special representative's activities.
New US negotiation position on the settlement of the Ukrainian-Russian conflict in the Donbass.
Key achievements of the United States Special Representative.
The main obstacles to implement a new US negotiation position on conflict settlement in the Donbass.
Conclusions and forecast.
Full text of study
(to read the full text please press the picture)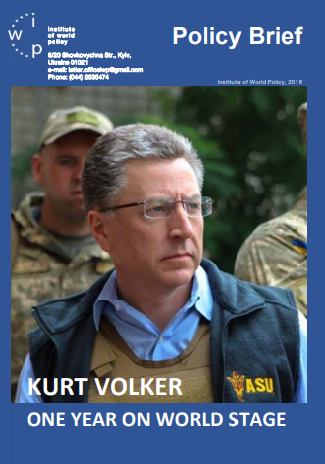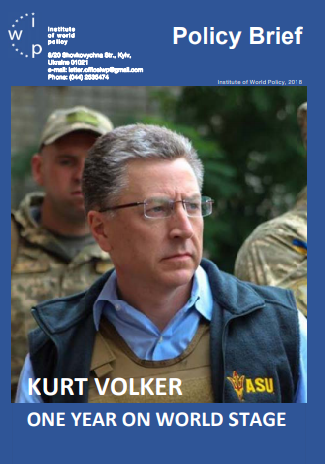 A video of the press conference on the presentation of the policy brief can be found here. The presentation was done in Ukrainian language